Ka Leo Covers Support for GMO Kalo Moratorium
Posted by kahea
at Mar 17, 2008 04:38 PM |
Permalink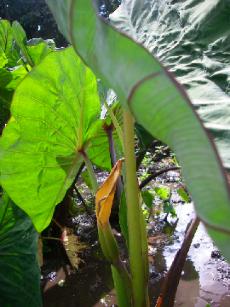 From today's Ka Leo:
"We would like a total ban, but that's not being responsible. This is a cooling off period," said Jerry Konanui, a Native Hawaiian kalo farmer whose family has grown the plant in the Puna district of Hawai'i for the past eight generations.
"The message from the people is simple: Hāloa is family, kalo is life, being in the lo'i is living," said Bryna Storch of KAHEA, a Hawaiian cultural and environmental advocacy group that organized the testimonies in support of the measure. "It is not appropriate, necessary nor acceptable to engineer kalo into a genetically modified organism."
Genetic engineering, the process of inserting genes from one species into another resulting in the creation of GMOs, has been conducted in Hawai'i for over a decade. Statistically, over 2,000 field tests of genetically engineered crops have been coordinated in the islands thus far, making Hawai'i the most genetically tested agricultural region in the world, according to Earthjustice, an environmental advocacy group.
See the full article.
Document Actions