Land Use Commissioners Approve Development on O'ahu Prime Ag Lands
Posted by Miwa
at Sep 30, 2010 10:54 PM |
Permalink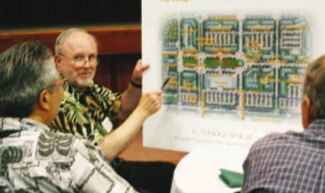 From our friends and 'ohana at Sierra Club Hawai'i Chapter:
In a 7-1 vote last week, the State of Hawaii Land Use Commission approved Castle & Cooke Homes Hawaii, Inc.'s proposed reclassification 767 acres of farmland to the urban district. Castle & Cooke proposes to build thousands of new homes and a medical complex at Koa Ridge between Mililiani and Waipio.
The Sierra Club, Hawaii Chapter, as a party to the case, asked the Commission to deny the reclassification because the project would adversely impact an already congested highway and prime agricultural lands.
"Castle & Cooke's plan for Koa Ridge is the epitome of urban sprawl," said Robert D. Harris, Director of the Hawaii Chapter of the Sierra Club. "When we're importing 85 to 90% of our state's food, it's absurd to pave over land that has been consistently and profitably providing food for O`ahu."
The Sierra Club brought expert witnesses before the Commission earlier in the year that testified about the detrimental impacts of losing nearly 800 acres of some of the best farmland in the state. Even Castle & Cooke's own expert noted that the Koa Ridge proposal would develop approximately 5% of O`ahu's remaining prime farmland (soil rated "A" and "B" under the ALISH system). The State Department of Agriculture testified that fifty percent of O`ahu's prime farmland had been paved over in the past fifty years.
"Diversified agriculture increased 475% between 1990 and 2004," said Harris. "There has been a resurgence of interest in eating in a local and sustainable manner. But if we want further growth in agriculture, we need to have the farmland."
There are other anticipated demands on farmland, like growing bioenergy, which will require thousands of acres of farmlands with a ready supply of irrigable water. "It's a slippery slope," Harris continued.  "As we develop more agricultural land, it drives up the cost for the remaining parcels and makes it more difficult for other farmers to grow local."
One knowledgeable scientist testified that University of Hawaii faculty researchers are concerned O`ahu will lose its capability to feed itself unless large farmlands like Koa Ridge were preserved. "We're just one hurricane away from starving," said Harris.  "We're dangerously reliant on food from being shipped into O`ahu. Preserving and growing agriculture in the State is a matter of basic food security."
Other witnesses testified about the surplus of land already proposed for development in Central O`ahu and the negative impact of increased traffic on folks traveling along the H-1 corridor. The state's traffic expert testified that the peak "rush hour" traffic could extend bottlenecks on the H-1 freeway potentially from as early as 5:00 am in the morning and similar hours in the evening.  The H-1 already has a grade "F" designation, the worst service traffic level.
The Sierra Club believes that the housing demand can be met without sprawling on more agricultural lands in Central O`ahu. Existing urban areas in Central O`ahu, such as Wahiawa and Waipahu, should be redeveloped. Further, over 13,000 units of housing have already been approved on over 1500 acres of agricultural land for new growth in Central O`ahu. Although the developer claims that new land must be developed to meet growing demand, population in some surrounding Central O`ahu communities actually decreased between 1990 and 2000.
"O`ahu is hitting some real limits to growth. We need to start redeveloping built areas instead of paving our finite and precious farmlands," said Harris. "Particularly with plans for over 13,000 new housing units already on the books for Central O`ahu, it's outrageous that the Commission would authorize new development of the best agricultural lands in the state."
For more information, you can check out Sierra Club on the web at http://www.sierraclubhawaii.com/media.php
And here's coverage from back in May of part of the LUC hearing on Koa Ridge: http://the.honoluluadvertiser.com/article/2010/May/21/bz/hawaii5210320.html
Document Actions