Screening of Mauna Kea: Temple Under Siege
Posted by kahea
at Sep 03, 2010 07:13 PM |
Permalink
Aloha `ohana,
Last week Wednesday, a group of about 25 or 30 people came together for a screening of the film Mauna Kea: Temple Under Siege from Puhipau and Joan at Na Maka o ka Aina. Mahalo also to Native Books/Na Mea Hawai`i for hosting us, to Rey for mixing the `awa for us, and to Kamu and Miwa for running back to downtown at the last moment to bring the TV from our office!
Despite the technical difficulties the audience graciously and patiently hung in there! Uncle Ku shared about the huaka`i (trips) that their Mauna Kea have been taking.  It is so inspiring to see how much ground they've covered! It is so important for us to, both figuratively and in this case physically, walk the path of our ancestors.
Far too often culture and tradition are relegated to the past, with all modern day iterations appearing either as museum displays, placards or reenactments.  I think physically having our feet on the dirt does something to us–it was really beautiful to hear about their journeys and rediscovery together.  My favorite story was about their journey in 2003 on Ka La Hoihoi Ea (a Hawaiian National holiday commemorating the return of sovereignty after a short occupation by a British dude named Lord Paulet).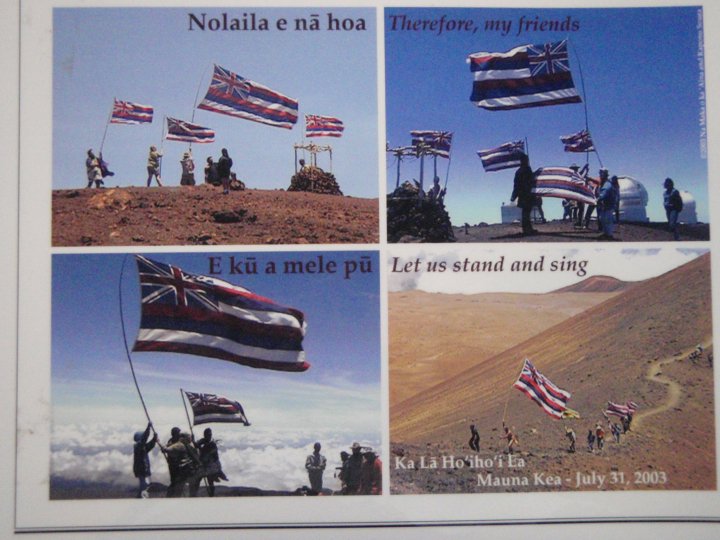 The simple act of honoring this day is cool in itself, but in 2003 the Mauna Kea Hui hiked to the summit with our national flags to raise them at the highest peak in the archipelago.  The pictures look super windy! What powerful images on so many levels!
If you'd be interested in hosting a screening of this film, email shelley@kahea.org  We only have a limited number of DVDs to lend out, but we do want to share the message as much as we can.
Also, here is a link to the online petition, please feel free to pass this link along far and wide.  We are in the process of getting a new website up, but this one will have to do for a couple more months! E kala mai!
Mahalo to Pono Kealoha for documenting this event!

Document Actions