Unveiling PA'A Pono Aquaculture Alliance
Posted by shelleyatkahea
at Apr 16, 2010 05:44 AM |
Permalink
From Shelley:
Aloha mai kakou,
Pa'a in Hawaiian means many things, such as to be firm or fastened–like an 'opihi to a rock, to be vigorous, steadfast, engaged. Last week we held a press conference unveiling the Pono Aquaculture Alliance (PAA) which is made up of groups and individuals who are calling for a critical look at open ocean factory fish farms  in Hawaii–a business that is slated to expand more than 900% in the next 5 years.
Why are we concerned? Ocean aquaculture comes in many types, from traditional loko i'a (fishponds) to industrial-scale factory fish feed lots. In Hawai'i, we need to make some important choices today about the kind of future we want for aquaculture in these islands. We at KAHEA believe that aquaculture must be pursued in a way that does not harm our oceans and lands, does not allow genetically modified fish or feed, does not dump pharmaceuticals in our waters, does not block public access, and does not privitize public trust submerged lands. If cannot? Well, pohō.
There was good press coverage, check out the story that ran in the Honolulu Advertiser.  http://www.honoluluadvertiser.com/apps/pbcs.dll/article?AID=20104090332 We want to thank Uncle Kale Gumapac of Kanaka Council, Rob and Christina from FWW, Aunty Kat from Ka Lei Maile Alii Civic Club, Henry Curtis of Life of the Land and Dr. Neil Frazer from the School of Ocean and Earth Science and Technology at UH Manoa who all contributed to this event. And a special mahalo to Uncle Isaac Harp for his work on this event, his manaʻo, and his solidarity.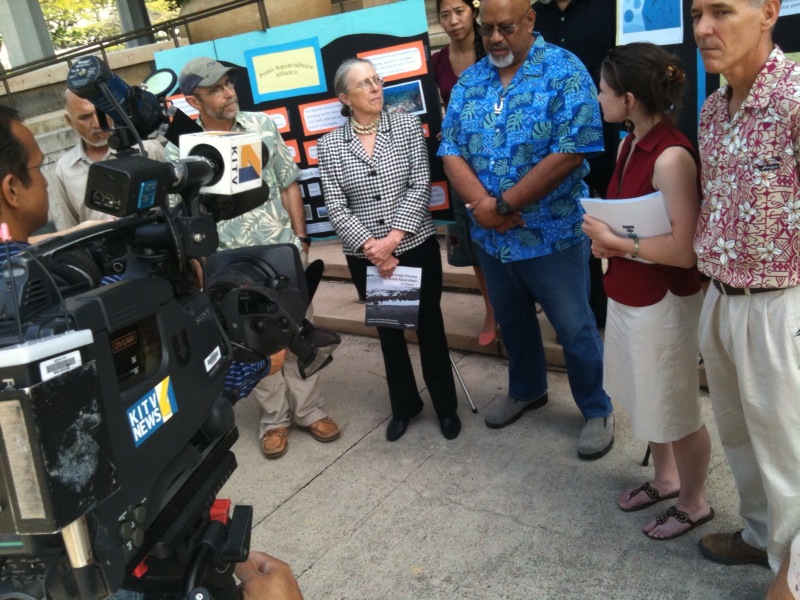 What I believe:  Today, Hawaiʻi is being used as a test lab that proponents call "pioneering" but I would call "reckless".  Supporters of industrial fish farms are selling their industrial model as "modern day Hawaiian fishponds"–a claim that is not only misleading, but demonstrates a lack of understanding of traditional resource management.  One of the benefits that  proponents cite is that their model will help lessen over-fishing.  This isn't true if you're raising carnivorous fish (like the kahala–"kona kampachi"–grown at Kona Blue, or like the 'ahi operation venture capitalists at Hawaii Ocean Technologies–HOTI–are trying to start up) that require wild fish being caught elsewhere and imported–creating a hole in the wild food chain.
Later in the evening, after the press conference, we held a community meeting at UH Manoa Hawaiian Studies building.  We want to thank all the concerned citizens who showed up to learn and contribute their mana'o on this topic.  You guys can check out PAA's unity statement and get more information about OOA at ponoaqua.org.
We must remember that the stakes are different, dare I say higher, for community members.  Worst case scenario for big business is they lose money, and have to pack up and go home.  Worst case scenario for the community is the end of free access to our oceans, which means losing the ability to feed ourselves and our children and their children.
Document Actions