Volunteering
Interested in volunteering? Learn more about volunteer opportunities at KAHEA.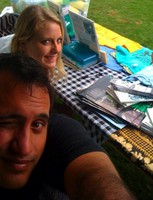 - Looking to volunteer for a few hours a week?
- Got pro-bono hours you need to serve?
- Looking for experience?
- Just looking to get involved?
We are always looking for volunteers to help in the office, assist at events, join our Pau Hana Planning Committee, host an `awa circle, collect petitions and testimony, Hawaiian language translation, and help with organizing community meetings. We are also in need of writers, photographers, videographers and web gurus, cultural specialists, education specialists, and resource experts.
For information on volunteering, contact Lauren Muneoka at (877) 585-2432 or lauren (at) KAHEA.org.
"The work that this organization does isn't run of the mill. Helping Hawai`i isn't only being on the front lines at a rally or festival, its also about being in the trenches. From folding brochures to educating the unaware, volunteering with the amazing people who work at KAHEA makes you grow as a person as well."
- Pomaika`i Freed, Volunteer
Mahalo to our volunteers!
Document Actions