3 Loopholes to Close
Posted by miwa@kahea.org
at Jan 25, 2011 08:00 AM |
Permalink
Last fall, a bundle of regulatory rollbacks were proposed for conservation lands in Hawai`i. Hundreds stood up in opposition, and the majority of these rollbacks were abandoned. Help close the last three remaining loopholes, and stand up for the strongest possible protections for Hawai`i's conservation lands.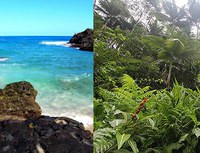 Protect Conservation Lands
Last Fall, the Department of Land and Natural Resources (DLNR) proposed a suite of regulatory rollbacks in Hawaii's conservation areas.  Hundreds of individuals and organizations stepped up to defend Hawaii's sacred and significant lands, and the DLNR staff listened. The majority of these rollbacks have been abandoned!
BUT (there's always a but), three major loopholes still linger.  We need your help to close them up.  The final public hearing before the state Board of Land and Natural Resources will be held at 9:00 a.m. on August 12, 2011 at 1151 Punchbowl Street in Honolulu. You can email the Land Board your testimony to: Adaline.F.Cummings[@]hawaii.gov.  Previous public hearings were held January 24 - February 9, 2011 around the islands.
The Last Three Loopholes
1. Just add "comprehensive": by changing definitions and re-structures subsections, the new rules would effectively erase the Third Circuit Court's ruling in favor of protecting Mauna Kea's natural and cultural resources through comprehensive management.
We can prevent this rollback by asking DLNR to insert the word "comprehensive" into the sections that require management plans for astronomy facilities.  This should be extended to include open ocean aquaculture facilities too.
With this one word, Hawaii's land managers could abandon the piecemeal decision-making that has allowed so much of our public trust lands and waters to be sacrificed in the past. And instead embrace truly comprehensive management, where resource protection is the primary purpose of all decision-making.
2. Protective zone is not an energy production zone: The new rules would allow for renewable energy production facilities to be located in the most protected subzone of the conservation district.  This makes no sense.  We all support renewable energy, but not at the expense of our most fragile and highly protected wilderness areas.
3. Public oversight on commercial uses: The new rules would take away the requirement that commercial activities in the conservation district undergo a public hearing.  There is a lot of opportunity for abuse in these situations.  At the very least, commercial use of state ("ceded" crown) lands in the conservation district should require a public hearing and approval by the Land Board.
Hearings were held on:
January 24, 2011 Waiehu, Maui
Paukukalo Community Center, 657 Kaumualii St.
January 25, 2011 Hilo, Hawaii
Hawaii County Council Room, 25 Aupuni St.
January 31, 2011 Kaunakakai, Molokai
Mitchell Pauole Center, 90 Ainoa St.
February 1, 2011 Lihue, Kauai
Lihue Library, 4344 Hardy St.
February 7, 2011 Kona, Hawaii
Mayor's Conf. Room, 75-5706 Kuakini Hwy, Rm 103
February 9, 2011 Honolulu, Oahu
Kalanimoku Bldg., 1151 Punchbowl St., Rm 132
Document Actions