All Aboard for Justice
Posted by miwa@kahea.org
at Jun 14, 2010 03:00 AM |
Permalink
In 2009, the Environmental Justice Working Group turned the Waikiki-style bus tour on its side, in our first ride through environmental justice hotspots on O'ahu's Leeward Coast. Here, rider Lauren Ballesteros shares her experience.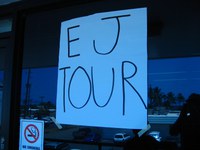 Lauren Ballesteros, UHM student and UNITE HERE! Local 5 intern, rode in the first EJ Bus Tour on August 14, 2009, where we brought a busload of changemakers from around the island together with 20 Waia'nae activists--to hear their stories, and see their community through their eyes. We continue to promote environmental justice through these tours.  Learn more and get on the bus >
I jumped at the chance to take a ride on the first Environmental Justice Bus Tour of Wai'anae.  Although it is my best friend's home, I have had very little experience there. I have made that long drive along the coast before and always been struck -- as many are -- by the visual disjunction: On one side a gleaming coast, home to the most gorgeous sunset I haver ever seen. On the other side, just a few feet inland, lines of abandoned cars, debris, and makeshift shelters line the road. I soon realized, however, this is a very superficial reaction to Wai'anae.

My greatest realization from the bus tour came in hearing each speaker give an impassioned and logical account of how and why Wai'anae residents have been unfairly burdened by military and industrial contamination in their community, but can be successful in building a healthy, self-sustaining community.  

It was bewildering and disheartening to learn that the dust from an industrial facility was contributing to the illnesses of nearby children;  that the military dumped thousands of tons of hazardous materials into the ocean where residents fish for food; that a private landfill has created a mountain of industrial waste just mauka of an otherwise beautiful neighborhood. I was shocked by this recklessness, this complete disregard for human life and the environment.  

But at the same time, I was inspired by examples of resilience in Wai'anae. MA'O Farms and Ka'ala Farms are two impressive sustainable agriculture ventures started in Wai'anae by Wai'anae residents.  These farms work towards improved sustainable farming methods and food independence, while giving young people a culturally based education and job training.  Waianae residents, like my best friend and her neighbors, are investing in themselves and their environment by gardening on their land and sharing with one another as they talk-story over their fences.

Wai'anae is home to one of Hawai'i's largest communities of Native Hawaiians, and bears the brunt of our municipal waste, military activity, and use of electricity. Through the tour I had a chance to see how our lives--all around the islands--are connected to one another. Sustainability has to be about just solutions for everybody.

I had the chance to participate in the EJ Tour through my internship for UNITE HERE! Local 5, working on a project in housing and land use. Already having an interest in social justice, I was incredibly encouraged by the Wai'anae residents' work in solidarity to affect change in their community. I took the tour because I believe in the vision of Wai'anae as a sustainable community,  producing its own goods and caring for its own land. It was empowering to understand the cruelty of some and the fight of so many on behalf of this community.  The possibilities are enormous, and within reach. Thank you to the members of this community for sharing with me, and to the EJ working group for providing this opportunity!
Mahalo to Lauren for her tireless organizing and for sharing this reflection. (Lauren pictured above with James Koshiba on the 2009 EJ Bus Tour).
Want to Kōkua?
The EJ Working Group must fundraise about $800 for each tour to cover the cost of the bus and materials. Your gift helps keep the bus running! Mahalo! Click here to give today!
Click here to learn more about these tours and get on the bus! >
Document Actions