New EA for Army Training on Mauna Kea
Posted by marti@kahea.org
at Jul 23, 2011 03:00 AM |
Permalink
The U.S. Army is proposing to conduct High Altitude Mountainous Environment Training (HAMET for short) on the slopes of Mauna Kea and Mauna Loa.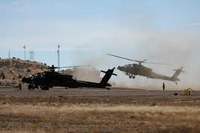 This on Mauna Kea? No way.
Just months after the Governor required a new environmental assessment for the Army's proposal to train helicopter pilots on Mauna Kea, the Army released a fat new EA for public comment.  We are still going through it.  You should, too: click here.
Public comments must be submitted to hamet_nepa@portageinc.com by August 23, 2011.
Read our post from January for a little background story and talking points on why we think this is a bad idea.
Document Actions