Petition for Sustainable USDA
Posted by Miwa
at Dec 22, 2008 03:00 PM |
Permalink
From guys at Roots of Change:
Friends:  Signing this petition is important if we are going to have sustainable and urban health leadership in the Department of Agriculture.  At the end are some of my thoughts why we need this.

Michael Dimock, president of Roots of Change http://www.rocfund.org/
reports that he was on a conference call with Obama's transition team last week.
He says that the transition team is aware of the Food Democracy Now petition, and said that 25,000 endorsements would get their attention. Also that 50,000 could really influence Obama's pick.
As of Monday, December 23, 10am HST the count is 58,862 . While the goal has been reached, more is always a stronger statement.
To reiterate: this petition has the attention of Obama's team, and they are expected to make their choice public very soon.
http://www.fooddemocracynow.org/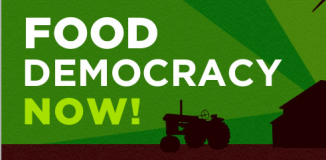 From Kathryn Mathewson:
Some of my reasons why we need this: We need a leader in the Dept. of Agriculture who understands the relationship between healthy food and healthy soil.  We cannot continue to kill our soil and food health with pesticides.  Local urban agriculture will also improve health and reduce our oil consumption.   Also, agriculture is the biggest user of water.  Research shows that healthy soil without pesticides will reduce plant water needs by 50 to 75 percent.  This will help address our drought issues.  We need the discussion of soil biology and agriculture on every level of government (agriculture, HUD, EPA, Health, Commerce, International).  It is vital that a leader in the Dept. of Agriculture understands these issues.
Document Actions