Why Jay Hates Us This Week
Posted by Miwa
at Apr 27, 2010 05:39 AM |
Permalink
From Miwa: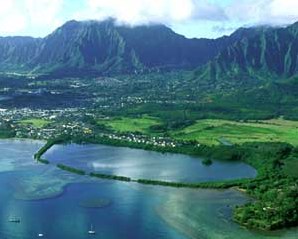 I tend not to get too worked up about what people say in the papers, but this I just had to share… Below is a copy of Jay Fidell's column in the Honolulu Advertiser (published Sunday).
In it, he articulates his opposition to the newly formed Pono Aquaculture Alliance.*
My personal favorite quote from Mr. Fidell:  "For their own agenda, the activists are ignoring state policy and creating an imbalance that is not fair or pono. The sooner our officials realize this, the sooner the imbalance can be corrected and we can catch up. Short of that, we're headed for backwater, where we really will need those ancient fishponds."
Backwater = Fishponds? It's news to us.
The "state policy" I *think* he is referring to, is the Ocean Resources Management Plan–which sets forth a goal of ten new aquaculture operations in Hawai'i…  after a public planning process to determine ocean areas where aquaculture is appropriate. No such planning process has ever occurred.
Some other things to consider:
- The Hawaii Ocean Technology (HOTI) new ahi feedlot proposed for Hawai'i Island will import 100% of its fish feed and export 90% of its fish to Japan and the U.S. continent. This is contributing to food security… how?
- The report Jay attacks in his piece is accompanied by 180 citations and footnotes, and is the result of over a year of investigative research work.
- Feeding wild fish to farmed fish (since high-value fish like tuna are carnivorous) is actually contributing to the decline of fish stocks like herring, mackerel, and sardine around the world. (It takes about 3 lbs of wild fish to produce 1lb of farmed seafood). How you do aquaculture, and at what scale, matters. A lot.

If you're moved to write in response to Jay, you can submit your letter to the editor here: http://the.honoluluadvertiser.com/current/op/submitletter
NOAA is holding its Honolulu "listening session" tomorrow–one of six such meetings on its proposed policy on open ocean aquaculture. Proposals to open waters  currently under U.S. federal jurisdiction (outside 3 miles) to aquaculture operations in the next few years are currently on the table. (2:30 – 4:30PM, Ala Moana Hotel) And likely why Jay is ranting about us this week!
*The Pono Aquaculture Alliance (PAʻA) is a group of cultural practioners, fishers, scientists, environmental advocates, and "aquaculturists" advocating basic principles of "pono aquaculture"–which include no use of hormones or pharma-chemicals, no GMO feed, and ensuring public access to ocean areas–and promoting aquaculture (like fish ponds, aquaponic systems and other forms of aquaculture) that promote ecosystem health, feed communities, and promote food sovereignty/security. Uncle Isaac Harp is leading this effort for KAHEA, and we deeply appreciate his work as well as the work of so many other dedicated individuals and organizations on this issue.
From Jay Fidell:

Aquaculture's the new target of Isle activists
Some say aquaculture is Hawai'i's next great sector, growing fish to provide us with food security, jobs and tax revenues for the state. The market is assured because the oceans can't meet world demand. Others say aquaculture will be the next whipping boy for the activists who are determined to bring it down.
Why would activists target such a promising new industry, especially where Hawai'i has lost self-sufficiency and imports 90 percent of its seafood? Maybe it's because the activists, like everyone else, are suffering in the recession, and desperate times call for desperate causes.
Activism is an industry dedicated not to building things, but stopping them. As others, activists have to pay for office space, staff, lawyers and PR. To pay their bills, they have to identify with causes. Old causes are old hat — they need fresh controversies to raise fresh money. No cause, no protest, no money.
TARGET OF CONVENIENCE
Aquaculture seems like a good target. Startups have to run the gauntlet and bear lengthy delays in dealing with government. Activists know that this burns capital and decimates cash. They know how hard it is for startups to raise capital in Hawai'i. In desperate times, aquaculture is all the more vulnerable.
The activists don't know much about aquaculture, so they've connected with Food and Water Watch, a nonprofit in Washington and San Francisco. It's a multi-million dollar organization with 65 employees. It's big business.
FWW attacks Starbucks and water bottlers because they use water, a public resource, to make a profit. They also oppose aquaculture nationally. Hawai'i is a perfect laboratory for aquaculture and thus for FWW. If aquaculture can be stopped here, it can be stopped across the country, mission accomplished.
PITCHED BATTLE OF WEBSITES
The result is lots of protest — blogs, websites, brochures, bulk mail, fuming letters to the editor, "embargoed" reports, and over-the-top press releases. It's a full-tilt campaign to scare the public with stories of evil corporations spilling tons of GMOs, pernicious antibiotics and toxic chemicals into the ocean.
Those stories, like Avatar, are untrue.
Then add regular appearances at government meetings and moratorium bills by suggestible legislators. The activists want their new aquaculture cause to resonate with earlier ones against GMOs and Superferry, telescopes and geothermal. For 2010, aquaculture is the cause of the day.
The activists attacking aquaculture are professionals who have been involved in every cause you can think of, from Kingdom Title forward. With help from FWW, their new alliance is Pono Aquaculture, but the players are the same few people and organizations that have been protesting causes in Hawai'i for years.
MISSTATEMENTS GALORE
From a factual point of view, the FWW attack on aquaculture is unbridled. In many ways, its hostility surpasses that of the Superferry opponents. Perhaps that's because there is less to support it. Instead of a reasoned conversation, we get exaggerations, misstatements, mischaracterizations, and lots of name calling.
After working to slow down and undermine the aquaculture sector on every level, they claim "factory fish farming" is unprofitable and failing. There it is — first you create misfortune for your adversary, and then you criticize him for it.
Beyond that, they tap into our local culture to sell their cause to people who are disaffected, fabricating an array of arguments for the proposition that aquaculture, which has long been designated as a top priority in our state policy, now somehow violates exclusive native Hawaiian fishing rights.
MEDIA VULNERABILITY
We can't run a state if we take our signals from those who are opposed to virtually everything. We need to know science and do critical thinking. We need someone to regularly investigate the facts and inform an unwary public.
Unfortunately, the media does not always do this. That's not fair to the readers. Activist organizations try to foment public opposition using the media. If the media takes everything they say at face value without further inquiry, you can be sure the public will be misinformed. If the media doesn't do critical thinking to identify misinformation, who will?
HAWAI'I, THE CONSUMER STATE
By not developing aquaculture, we have no food security and we're spending almost as much buying foreign fish as buying foreign oil. As an island state, we should have the best ferry system in the world. We should also have the best aquaculture in the world. We don't. There's no good reason for that.
For their own agenda, the activists are ignoring state policy and creating an imbalance that is not fair or pono. The sooner our officials realize this, the sooner the imbalance can be corrected and we can catch up. Short of that, we're headed for backwater, where we really will need those ancient fishponds.
In Hawai'i, it's been politically incorrect to argue with activists. If the majority cares about our future, they'll have to speak out. Democracy is more than anti-policy imposed by a militant few. A passive majority is the ultimate complicity.
Will aquaculture be the next Superferry? You decide.
Jay Fidell is a business lawyer practicing in Honolulu. He has followed tech and tech policy closely and is a founder of ThinkTech Hawaii.


Document Actions