The Earth Friends Challenge
Take the Earth Friends Challenge! Thanks to Earth Friends Conservation Fund, the dollars you give to KAHEA go even further!
Did you know that only 2% of charitable giving goes to environment and conservation? It's true.

Rick Flory and Lee Robert of Earth Friends Conservation Fund believe that's just not enough, and they've made it their mission to increase the amount of charitable dollars invested in groups like ours. They've given us a challenge grant, and challenged us to raise more! Your gift helps us meet their challenge.
A few words from Earth Friends Conservation Fund: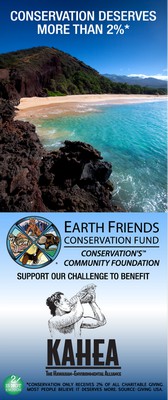 Conservation and environment receives just 2% of charitable giving. Put simply, our environment is not as well-supported as it must be to ensure our future quality of life.

Preventative action to maintain the health of our air, waters, lands and forests costs a fraction of what we will sacrifice if we neglect our responsibility.

Conservation has one of the highest returns on investment of charitable work. Conservation preserves the ability to sustain Hawai'i's people, while protecting the beauty and meaning of these islands, and this planet.

By supporting KAHEA, you are smartly leveraging your investment. The Earth Friends Challenge recognizes groups, like KAHEA, known for their efficiency and success in accomplishing their mission.

KAHEA's work is essential to our lives and to future generations.

There is no time to lose. Please invest in KAHEA today!
Document Actions