Councilman Martin Resurrects Proposal That Allows Homes in Malaekahana
July 14, 2015
UPDATED: The City Council chair has issued a statement saying the move is procedural and that ultimately Malaekahana will not be in the urban area, but supporters of more housing are still encouraged.
Just four months after Honolulu City Councilman Ikaika Anderson said he wouldn't agree to allowing a new residential community at Malaekahana, City Council Chair Ernie Martin has introduced a planning document that would permit 875 homes in the area despite opposition from community groups like the Defend Oahu Coalition.
The proposal appeared to be dead in March when Anderson, who chairs the City Council Zoning and Planning Committee, amended Bill 47, the Koolauloa Sustainable Communities Plan, to remove all references to more housing at Malaekahana.
But Martin introduced Bill 53 on Thursday bearing the title, "To Adopt the Revised Koolau Loa Sustainable Communities Plan." The bill includes a new 875-home residential community at Malaekahana "to meet existing pent-up demand and provide land for affordable work force housing."
Update: Martin, who was unavailable for comment Tuesday, said in an email Wednesday afternoon that the re-introduction of the plan was largely procedural:
"Bill 53 (2015) was introduced to revive Bill 47 (2013) which will shortly expire," he said. "By law with respect to bills submitted by the planning commission, the council must act on the bill within 2 years and if we seek additional time, the bill can only be introduced in its original form… It is my intent to amend Bill 53 (2015) after it passes first reading to mirror what was amended through Bill 47 (2013) by the Council's Zoning and Planning Committee. As you may recall, this would remove Malaekahana from the extended urban growth boundary."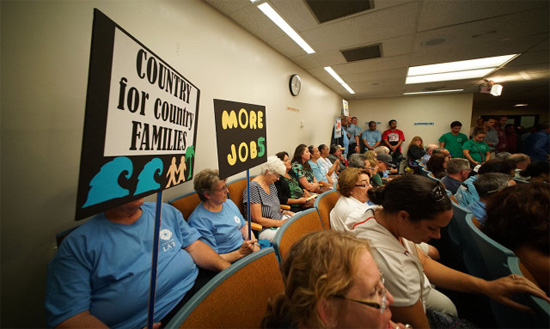 Residents hold up signs supporting and opposing the proposed new community at Malaekahana at Honolulu Hale on March 5.
Anderson said in an email Wednesday afternoon that he plans to amend the bill to remove references to the Malaekahana residential community.
But advocates for the Malaekahana community still see the new measure as a hopeful sign that some housing could be built. Eric Beaver, president of Hawaii Reserves, the Mormon Church's land management company, said in a phone interview Tuesday that his understanding is that the councilman from the North Shore introduced Bill 53 to keep the discussion of the project open because Bill 47 expired this month.
"We're happy that it didn't expire and die altogether," Beaver said, noting the need for affordable housing on the North Shore. "(Bill 53) keeps it alive and it gives us time and Councilman Martin to try to find a way to still have a project that will move forward."
Beaver said Hawaii Reserves will continue to work with the Council as needed to find the best solution for the community.
"Right now with Ikaika's solution — to leave the existing designations as they are… obviously that's not a solution," Beaver said.
"Some growth in housing and related support services is envisioned primarily in Malaekahana to support the planned expansion of the Brigham Young University," Bill 53 says. "Nevertheless, the future of the Koolau Loa region is to remain country, characterized by small towns and villages with distinctive identities that exist in harmony with the natural settings, defined by mountain ridges and scenic open space."
The bill says, "Development in Malaekahana is supported because its affordable housing units are expected to be absorbed by local area residents, some of whom are believed to be currently living in extended family housing arrangements."
The measure would require at least half of the new housing units to be "affordable" and to remain so in perpetuity. The bill says the development must include a new road from Malaekahana to Laie and Kahuku with room for walking and biking, and abide by several other guidelines related to parks, views and infrastructure.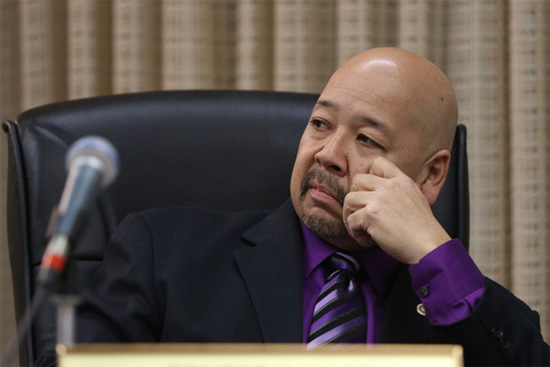 Honolulu City Council Chair Ernie Martin listens to testimony on a proposed development at Malaekahana on March 5.
The plan also includes a reference to a new primary school to serve the Malaekahana community, and contends significant traffic impacts aren't expected because many of the residents of the new community are expected to work at Brigham Young University-Hawaii or other employers located from Laie to Kahuku.
Tim Vandeveer, who leads the community group Defend Oahu Coalition, called Bill 53 disappointing.
"It means that Councilman Martin is out of touch with the vast majority of residents in Koolauloa," Vandeveer said.
Here is an excerpt from the measure that describes the proposed development:
"Adjacent to La'ie, about 300 acres is proposed for the new Malaekahana community as an extension of the established La'ie community. It will provide supportive housing for the jobs offered by the Polynesian Cultural Center and Brigham Young University-Hawaii. It is also expected to provide about 875 units, including a significant number of units for workforce housing in perpetuity for existing Ko'olau Loa families, with commercial activities only needed to support this resident population. The supply of affordable units should first meet the needs of the residents of La'ie and Kahuku, and secondly, of those who work in the region. About 25 acres of land can be used for industrial uses that reflect the City's existing corporation yard and provide opportunities to neighborhood support activities, as well as research partnerships with the University. It is intended to conform to the rural character of Ko'olau Loa. A new mauka road from La'ie to Malaekahana will connect the neighborhoods, while improving circulation in the region."
Read the original story
Document Actions