Honolulu City Council Panel Says No to 875 Homes in Malaekahana
March 05, 2015
The committee rejected plans for a new North Shore residential community despite strong support for housing from Laie residents.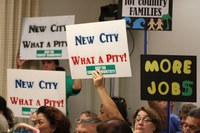 Cory Lum/Civil Beat
The Honolulu City Council Zoning and Planning Committee approved a planning document for the North Shore on Thursday but amended it to remove a highly controversial new residential community at Gunstock Ranch in Malaekahana.
Dozens of supporters drove down from Laie on Thursday to advocate for the development before City Council members. They told stories of overcrowding and family members who were forced to move away because they couldn't afford to rent or buy a home in their community in windward Oahu.
They urged the city lawmakers to approve the Koolauloa Sustainable Communities Plan as drafted by the city Department of Planning and Permitting, which included references to a new residential community on Malaekahana.
But Zoning and Planning Committee Chairman Ikaika Anderson said he wants to stick with the island's General Plan, which calls for keeping the North Shore rural. The committee voted unanimously to pass his amendments to Bill 47 that remove all references to new housing in Malaekahana.
"I don't believe that the people proposing this are bad people or they want to do anything ill in their community," Anderson said. "I'm just of the view that this particular development does not fit in the Malaekahana area."
image
Anderson said he's often thought about whether he would support a similar development in Waimanalo, where he lives, to help his children find homes in their hometown.
"I've come to the very difficult realization that should my children decide to continue living in Hawaii it's quite possible they might not be Windward residents," he said. He noted that they might be residents of Hoopili, another highly controversial development that Anderson's committee approved earlier Thursday.
The committee's vote isn't the final decision. The Koolauloa Sustainable Communities Plan, which provides a conceptual outline of how growth should be managed on the North Shore, must be heard by the panel again and twice by the full Council before it is finalized.
But it is a significant decision in favor of environmentalists and others who have sought to keep the North Shore rural. In part because of the heated controversy, it has taken six years for the planning document to make it to the Zoning and Planning Committee even though it's supposed to be updated every five years.
George Atta from the Department of Planning and Permitting testified that the project has given him "more heartburn and headaches" than any others, including other highly debated projects Koa Ridge and Hoopili.
Atta said if the city doesn't allow more homes in Malaekahana, it could densify existing areas by increasing building heights.
"We haven't really had that conversation about which is preferred," he said.
But he warned that something should be done to address the natural population growth in the area. "If nothing happens, then the people in the community will have to move out to other parts of the island to find housing."
The lack of affordable housing is a statewide problem in Hawaii, where the median home price has topped $700,000. But while many Hawaii residents live in multi-generational households due to the high cost of renting and buying, Laie has the highest concentration of people per household of any town.
A small community on the windward coast, the area is known for its concentration of Mormon residents and the presence of Brigham Young University, the Polynesian Cultural Center and the temple of The Church of Jesus Christ of Latter-day Saints.
The Hawaii Reserves, a company that is in charge of managing land owned by the LDS Church, is the developer behind the planned homes.
The company's president Eric Beaver said of the 875 homes envisioned for Laie, half of them would be affordable, including rental housing and for-sale homes.
That sounds good to Bobby Akoi, who has lived in Laie for 33 years and works at the Polynesian Cultural Center. Akoi has four children, and two of his sons live with him because they can't afford to rent or buy a home.
"Removing affordable housing from this plan will be devastating to our children and grandchildren," he told council members. "All they want to do is live and work in our community."
His testimony was typical for the dozens wearing light blue shirts expressing support for the project.
But opposition to the planned homes was strong from North Shore residents and others who worried about the project's impact on traffic and the rural character of the area.
Many emphasized that the Oahu General Plan calls for concentrating development on the south shore. State Sen. Gil Riviere from the North Shore testified in favor of Anderson's amendments.
"It is essential that we keep rural areas for the benefit of all residents and visitors," Riviere said.
Tim Vandeveer, who leads Defend Oahu Coalition, also vigorously opposed the proposed housing. He said that he supports affordable housing but wants Hawaii Reserves to build housing on land that's already been slated for development.
Beaver said that land is downwind from a sewer plant and the cost of improving the infrastructure would make the homes unaffordable. He also said the land by Brigham Young University is slated for the university's expansion and student housing.
Vandeveer said Thursday's hearing illustrated that there are other options, such as increasing density within existing urban-zoned land in Laie. He was delighted with the committee's decision.
"This is maybe the first time that this Council voted our way," he said. "It's a positive step. It's not over yet, but it feels good."
But while many were happy with Tuesday's result, 44-year-old Uiti Siaosi Jr. wasn't one of them.
Siaosi works at the Polynesian Cultural Center and lives with his parents and son in Laie. When he rides the Handi-Van on the North Shore, he sees numerous homes sitting vacant that are too expensive for him to buy or rent. He wonders what's going to happen to his 14-year-old son and if he'll be able to continue raising his family in Laie.
"Our community is growing," he said. "Where are we supposed to live?"
Read the original story
Document Actions