State Hobbles Army Training
June 27, 2011
Abercrombie requires Army to do an environmental review of helicopter training on Mauna Kea and Mauna Loa.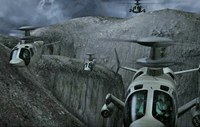 The Army is shifting at least some high-altitude helicopter training from Hawaii to Colorado — at a taxpayer cost of up to $11 million — following an additional environmental review imposed by the state.
The regulatory process has already delayed training by four months, creating a tight deadline for Wheeler Army Airfield pilots preparing for a yearlong deployment to Afghanistan in January.
Now Gov. Neil Abercrombie has informed the Army it must conduct a state environmental assessment in addition to a federal environmental assessment to use six existing landing zones high on the slopes of Mauna Kea and Mauna Loa.
The Army said it will comply, but is asking Abercrombie for permission as soon as possible so air crews of Wheeler's 25th Combat Aviation Brigade can train closer to home.
Brigade commander Col. Frank Tate said in an interview Friday that the latest difficulty in securing permits to conduct the high-altitude training "is going to cause a significant issue for us."
"We are putting together all of our plans for the contingency to send folks to Fort Carson, Colo. — which of course will have a significant impact on the personnel tempo (time demands) for all the soldiers," Tate said. "We'll have to go to Carson and spend significant time there to get this training completed."
The Army originally wanted to conduct the high-altitude training on Hawaii island from February to August, but community groups complained that the Army's federal environmental assessment, released in December, was inadequate.
The assessment addressed impacts such as noise, disturbance to the land and effects on hunters and hikers caused by the Army helicopters flying over and landing on state conservation land.
The Army revised its environmental assessment and hoped to get a permit this month from the state Land Board.
The latest problem faced by the Army in securing a permit stems from a state attorney general's opinion — detailed in a June 20 letter from Abercrombie to Lt. Gen. Francis Wiercinski, head of the Army in the Pacific — that the Army needs to complete Hawaii environmental reviews for the training in addition to the federal studies it already conducted. Abercrombie and Wiercinski had previously discussed the issue.
Abercrombie said in his June 20 letter, "I'm certain with a little good will and focused attention we can get this (state environmental study) done with dispatch."
Abercrombie spokeswoman Donalyn Dela Cruz took questions from the Star-Advertiser but did not return any responses.
Wiercinski has been talking with Abercrombie to see whether the permit matter can be resolved, Tatesaid.
Tate estimated the state process could take three to four months. Brigade soldiers also have to conduct other required training. If a state special permit is granted in the near future, the unit will train whatever amount of soldiers it can on Hawaii island.
"Because of the amount of time that even the most optimistic estimates would have for us to complete the state process, it would preclude us from getting (the full) three three-week training periods in prior to us needing to start loading boats and preparing to move equipment towards Afghanistan," Tate said.
The Army is promising to complete the state environmental review while also seeking an immediate special use permit from the Department of Land and Natural Resources to conduct what training it still can on Hawaii island to mitigate the mainland training cost and time.
In the meantime, the Army said it will begin sending pilots, maintenance crews and helicopters to Fort Carson, near Colorado Springs, where high-altitude training is permitted.
Eight UH-60 Black Hawk helicopters at a minimum will be shipped to Colorado starting in August to be used for training, and if the brigade can't borrow on the mainland the latest variant of CH-47 Chinooks it uses, at least four of the big, twin-rotor helicopters from Hawaii will be sent to Fort Carson as well, officials said.
More helicopters could follow. A total of 260 Chinook and Black Hawk pilots are required to go through day and night high-altitude training before the brigade ships its 95 Hawaii-based choppers in October for the deployment to southern Afghanistan.
Tate said the $11 million potential cost to conduct all of the training in Colorado is significant but that so is the additional time his soldiers will have to spend away from their families.
The Schofield Barracks brigade is deploying to Kandahar, Helmand and other provinces in southern Afghanistan with 2,600 Hawaii soldiers and 26 two-seat OH-58D Kiowa Warriors, 14 Chinooks and about 55 Black Hawks based here.
The high-altitude flights are not only required by the Army, but also represent "very important lifesaving training," Tate said.
Helicopters frequently deliver combat soldiers to high-altitude locations in Afghanistan, where aerodynamics and terrain make flying challenging.
Tate said he commanded an aviation task force in Kandahar in 2005, "and we did a great deal of missions high up on the mountains, inserting Special Forces into pinnacles high on the mountain, inserting (Army) Rangers, inserting conventional infantry and resupplying lookout points many times a week. It was routine and frequently at night."
High-altitude training involves touching down repeatedly and briefly on a variety of landscapes, including slopes and pinnacles at the six landing zones between 7,889 feet and 11,539 feet on the Hawaii County mountains.
The smaller Kiowa Warriors, which aren't used at the same elevations as the bigger choppers, fulfill their requirements at Pohakuloa Training Area's 6,000- to 6,500-foot elevation, Tate said.
The brigade conducted the same high-altitude training on Hawaii in 2003, 2004 and 2006 on individual state permits prior to Afghanistan and Iraq deployments.
With the increasing focus on Afghanistan, the Army standardized its high-altitude training. As a result, the Army said it undertook the federal environmental assessment for the Hawaii island training.
A draft finding of "no significant impact" for the training was released by the Army in April. Tate said the Army "believed originally that the (federal environmental) process was adequate. As we got further into the process, some people began to say that they thought we also should do the state process, and at that point is when we said fine, we're willing to also do the state process. However, then we will need to do permits to train now."
According to Abercrombie's June 20 letter, the Army can revise the federal assessment to reference Hawaii law, work with the DLNR to submit a draft, respond to comments after a 30-day comment period, prepare a final assessment and submit it to the Land Board.
The Army was able to provide high-altitude training March 21 through April 1 for about 11 pilots on a state special-use permit it was granted to study noise and the ground effects of the flights on Mauna Kea and Mauna Loa, Tate said.
Tate also sent about 40 pilots to the Colorado Army National Guard's High-Altitude Army Aviation Training Site west of Denver for high-altitude training, but that training fulfills only the daytime requirement because the program doesn't offer night training, he said.
About seven instructor pilots were sent to Fort Carson to help train other units, and they have met the high-altitude requirement, but Tate said the vast majority of his pilots still need the training.
Tate said he's finalizing which pilots to send to the mainland and when, and is trying to "borrow" aircraft already there.
"So we're still working through the plan," he said. "We're trying to obviously minimize the cost to the Army because nobody had any money just lying around extra to do this."
Read the original story
Document Actions