6,000 & growing...
Posted by kahea
at Mar 19, 2008 10:24 PM |
Permalink
from Marti: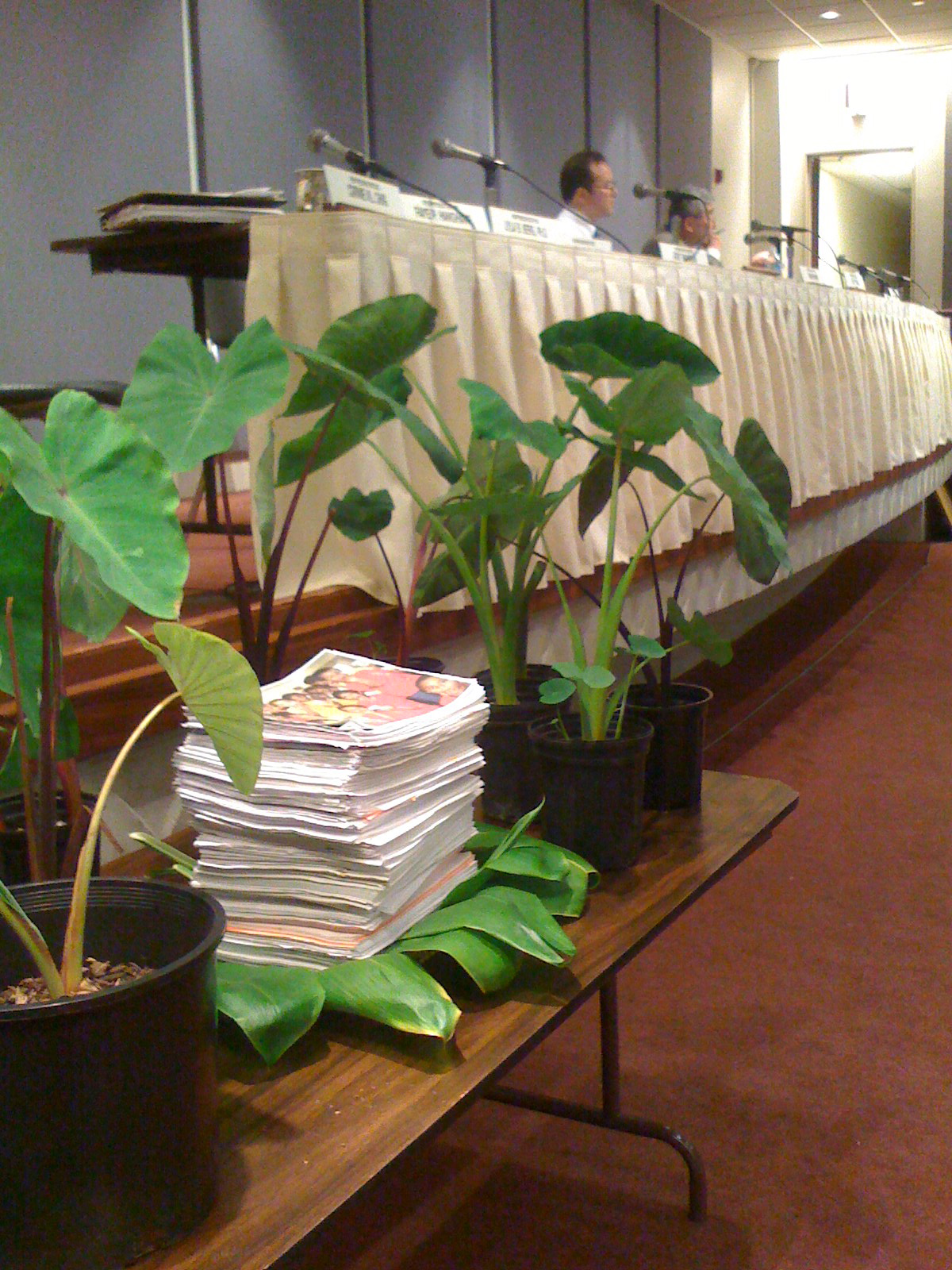 The morning began with a procession of Kanaka carrying taro plants and chanting Oli in honor of Haloanakalaukapalili accompanied by a 1 1/2 foot tall stack of testimony from people all across Hawaii in support of protecting taro from genetic modification and patenting. This is the testimony of 6,000 farmers, scientists, keiki, kupuna, Hawaiians, Haoles, poi-lovers, poi-makers…. And the list continues to grow – testimony is still being emailed to the Committee, people are still signing up to speak. And the hearing will likely continue through the evening …
Here is a letter that was published today in the Honolulu Advertiser (one of the few so far):
GENETIC MODIFICATION
CHANGING KALO ERODES HAWAIIANS' LIFELINE
My mother used to serenade me with songs about exotic places. Travelogues of oceans, forests and island sweethearts. This is how she passed on knowledge. Songs reflecting simpler times and storytellers of the past. Our people were more disconnected than ever. Being Hawaiian was not popular. So to sing her aloha was her moment of self determination.
Her spiritual integrity impressed upon me indigenous ways of knowing. "Leave that popolo berry! It wants to grow there."
If someone was to have told her she could no longer share limu among her classmates without a permit she would have sighed, "That's why we going die out." But she would respectfully accept it. She felt people saw her particular relationship with the 'aina as peculiar.
Replanting kalo is the living lifeline that holds the stories of our past. Changing the genetic makeup of kalo will erode that lifeline.
Hawaiians are now re-establishing their priorities in maoli culture. A moratorium on varieties of maoli kalo and introduced kalo as specified in SB 958 is needed for more reasons than just keeping steroid-like pumped up food off our tables.
It's needed so we can pass on to our keiki more than just "stones." We can pass on the story of Haloa.
-Meala Bishop
Waiahole kalo farmer, Kane'ohe
To submit testimony on the protection of taro, click here.
Document Actions