what needs to be changed
Posted by kahea
at Mar 17, 2008 05:05 PM |
Permalink
The KAHEA office has been abuzz all weekend–the fax machine on overdrive–as staff and volunteers plowed through the task of organizing and compiling thousands of letters of testimony in support of a 10-year moratorium on genetic modification of kalo (taro).
Mahalo to everyone who has lent their voice in support of Hawai`i's traditional farmers! As Bryna likes to point out: "Without the right to protect our traditional food resources what will remain of our culture or our rights?"
From Bryna:
The shared kuleana to save kalo and traditional farming is not only historical or cultural–it is a political imperative for Hawaii's survival on this rapidly changing planet.
Thousands of letters of personal testimony, expert opinions and petitions for protection speak to the importance of pure kalo and traditional farming techniques for Hawaii. This is a truly pono moment in the history of humanity- thousands and thousands of people of all backgrounds are joining together to protect a plant species from irreversible genetic modification- and honoring an ancient ancestor and endangered Hawaiian lifestyle.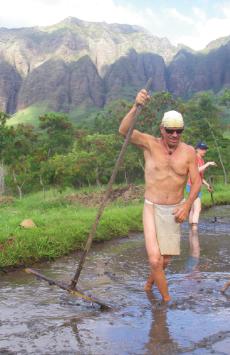 The message from the people is simple and clear: Haloa is family, Kalo is life, being in the Lo`i is living! It is not appropriate, necessary nor acceptable to engineer kalo into a genetically modified organism. The observation of the kalo farmers is profound: the kalo plant is not what needs to be changed.
Document Actions