A Story of Displacement
Posted by miwa@kahea.org
at Jun 15, 2011 05:55 AM |
Permalink
The current struggle to see these lands remain in agriculture is part of a longer fight between developers and farming communities that has been ongoing for almost 60 years. As farmers tell their stories, we can see a pattern where urbanization displaces farmers and farms.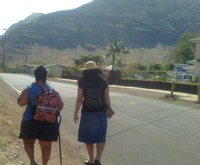 UH Mānoa Professor Candace Fujikane was an early rider on our Environmental Justice Bus Tours. In support of the efforts of the Concerned Elders and Waiʻanae communities members against industrialization of this valley, she began work interviewing farmers and documenting farms along rural Hakimo Road. Candace's meticulous research was an important piece of the committed organizing and community participation leading to the recent grassroots victory against the "purple spot" industrial zone proposed for Wai'anae.
Here, Candace shares from her experiences and research in Lualualei about the Hakimo Road communities that would be most impacted by the "purple spot" industrial zone:
At Ka'olae in 'Ulehawa, the birthplace of Māui, lies 96-acres of agricultural lands threatened today by industrial development.
It was in the seas of 'Ulehawa that Māui went fishing with his brothers, looking to his mother Hina's cave in Pu'u Helekalā to gain his bearings as he sought to pull up and join the islands with his fishhook, Mānaiakalani.  It was at Pu'u Helekalā that Māui snared the sun so that Hina could dry her kapa.  The story of the birth of Māui unfolds along the ridgelines of Pu'u Heleakalā, Hālona Ridge and the cliffs of Pāhoa.
These acres were once a working family farm and an integral buffer between cultural sites and several incompatible industrial land uses further makai, retroactively permitted by the State to operate on agricultural land. This includes the landfill now owned and operated by PVT, Inc., as well as Pacific Aggregate and the West Oahu Aggregate.
The current struggle to see these lands remain in agriculture is part of a longer fight between developers and farming communities that has been ongoing for almost 60 years.
As Alice Greenwood, Lucy Gay, and I walked door to door along Hakimo Road talking with farmers about the proposed rezoning, they told us a story about the pattern of urbanization that displaced them from places like Kalihi and East Honolulu.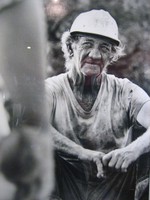 The Pattern of Displacement
As Yukiko Kimura documents in her book Issei, in 1955, the City Planning Commission ordered the removal of piggeries from Kalihi, forcing many to relocate to Koko Head and Wai'anae.  From 1949 to 1959, farmers were forced to move from Wai'alae and Kāhala to the Koko Head, but then from 1966 to 1968, they were all evicted by Bishop Estate to make way for the Hawai'i Kai housing project being developed by the Kaiser Land Development Co.
Many of us know about the farmer's historic fight against development in Kalama Valley and their eventual eviction, but their story does not end there.  The story continues in Lualualei Valley, where many of the farmers relocated their farms.  Pearl Tavares explains, "We used to have our pig farm at Koko Head, but we got chased out of there.  Our leases from Bishop Estates expired.  One hundred and fifty farmers had to move and a lot of them moved to Wai'anae."
On one Environmental Justice bus tour, Patsy Kaneshiro described how her family had farmed land on which the Hawai'i Kai Shopping Center now sits.  They were one of the first families to move into Kuli'ou'ou in 1959 but were forced to move to Lualualei in 1963.
Now the Lualualei farmers face the threat of urban creep yet again as developers purchase inexpensive agricultural land, speculating on rezoning for profit.  To advance their case, Tropic Land has claimed that agricultural activity on this land "is not sustainable." Community members dispute this statement, sharing photos and stories about the abundance of produce grown by two farmers who cultivated that land for over twenty years.
Just as farmers were being evicted from East Honolulu in the 1960s, Tadashi Araki began to lease the petition area in Lualualei from the McCandless family.  In an interview with journalist Samson Reiny, Mr. Araki described with pride his famous sweet Wai'anae onions, green onions, eggplants, bell peppers, tomatoes, lettuce, cucumbers, papaya, watermelons, and cantaloupe.  He also raised a few hundred goats for milk.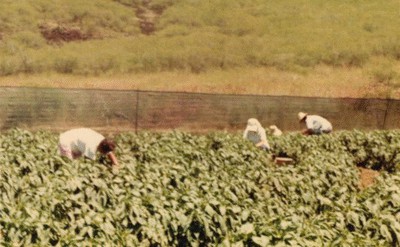 Mr. Araki farmed that land from 1967 to 1978, then he was forced to leave when McCandless raised his rent and demanded a 6 percent cut of his crop yields.
Jerrol Booth, a neighboring farmer, tells us, "Araki had an excellent production of onions.  Every year, he increased his yield by ½ an acre, but he was on a month-to-month lease.  It's hard to farm month-to-month; the landlord changes his mind and you have to be out in 30 days.  You think your children will be growing onions, but then you have to pack up and leave."
Ryoei Higa began farming the land in 1978, growing Mānoa lettuce, daikon, mizuna, mustard cabbages, bok choy.  Mr. Higa explains that he was the only farmer who could provide the Teruya brothers at Times Supermarkets with produce in the winter months when other farmers suffered from rain-rotted vegetables.  He explains, "I put the compost all around the vegetables, that's why wintertime, my vegetables all big and fresh, color nice, no chemicals. Six days a week we take our vegetables to Times, even in the wintertime."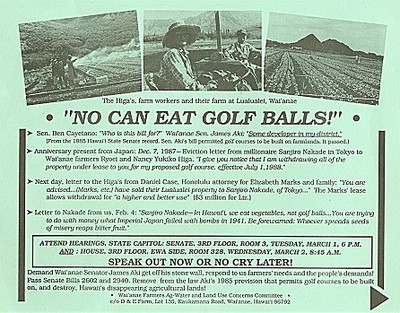 In 1988, Japanese corporation Kabushiki Kaisha Oban evicted Mr. Higa from his farmland to pursue rezoning for a golf course, and Mr. Higa then became famous for coining the slogan "NO CAN EAT GOLF BALLS!"  In a massive community gathering, a thousand people wearing t-shirts emblazoned with Mr. Higa's words rallied at his farm.  As a result, the Wai'anae Neighborhood Board voted unanimously against the golf course.
In 1996, the City Planning Commission voted to rezone the land but the developer was unable to secure water for the golf course.  Tropic Land purchased the land in 2005.
During the LUC hearings, Earl Yamamoto from the Department of Agriculture described how urban spot zoning adversely affects agricultural production.  He described the "Impermanance Syndrome" as a devastating cycle where farmers facing urban encroachment find it difficult to invest in expensive equipment and structures necessary for operating their farms.  It's not difficult to see why farmers are critical about the city and state's lack of commitment to an agricultural future.
Farmers can't invest in expensive equipment without our protection of agricultural lands.  Since 1991, 3,300 acres of A and B lands, the most productive agricultural lands, have been lost on O'ahu alone to urban rezoning.  Mr. Booth, Araki's neighbor, explains that because he believed in an agricultural future for Lualualei, he was able to invest in expensive greenhouses that house 40,000 square feet.
The next generation of farmers can provide food and jobs only if we are committed to a future for agricultural lands in Hawai'i.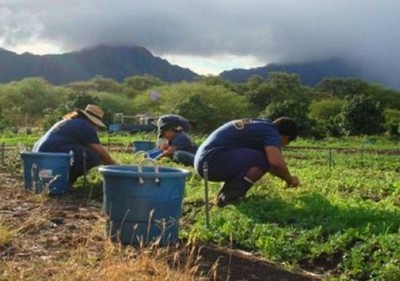 Let Us Farm
This past spring, while the developer's attorney argued that there is no future for farming in Lualualei in a small hearing room in downtown Honolulu, college students at MA'O Organic Farms were busily packing truckloads of vegetables across the valley from the petition area. The vegetables were on their way to high-end restaurants on O'ahu and Community Supported Agricultural program pick-up sites around the island. MA'O has led local, national, and international conversations about sustainable food security, and the young people are part of a youth leadership program that provides both college tuition and hands-on training for new generations of sustainably savvy farmers.
Interns learn the mo'olelo of Lualualei Valley, the names of its mountains, winds, rains, and akua, which helps them to cultivate aloha 'āina and to identify the resources of the valley.
MA'O youth leaders gave powerful testimony at City Planning hearings showing that this new generation does want a future in farming.  They are also changing the perception that large-scale corporate methods of food production are the sole solution.  Instead, they and the numerous 2-acre family-owned truck farms attest to a sustainable agricultural future in Lualualei Valley and across the islands.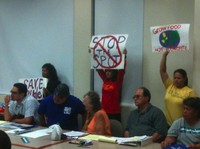 As the Concerned Elders of Wai'anae and other community members have argued, it becomes clear that for the farmers, the real challenges do not come from the land or from the climate. The farmers are knowledgeable, innovative and resilient, and they know how to overcome these natural difficulties. The real challenges are man-made, like the arbitrary rezoning agricultural lands to benefit a risky industrial development flip.
The fight is not yet over.  While this decision at the LUC is a historic one at the state level, the "purple spot" version of the Wai'anae Sustainable Community Plan is now before the Honolulu City/County Council.
The fate of the agricultural districts are in the hands of these policymakers, but as this victory shows, collectively, we can have an impact on their decisions.  As the farmers in Lualualei continue to grow our food and enact a sustainable future, it is up to all of us to continue to provide a broad base of support to protect agricultural lands and the Hawaiian sacred sites they protect.
Photos above (from top to bottom) from:  Shelley Muneoka, Ikaika Hussey, Ed Greevy, Walterbea Aldeguer, John Kelley/Save Our Surf, MA'O Farms, and Shelley Muneoka
Farms vs. Dumps:  Lualualei Interactive Map
Click on the map below to see an interactive map of the proposed "purple spot" industrial zone and learn a little more about the rural Lualualei Valley communities who would be impacted.
More Resources
Read article from Hawaii Independent: http://www.thehawaiiindependent.com/story/lualualei-community-fighting-to-save-farmland/
Read the article in FLUX Magazine: http://kahea.org/press-room/press-clips/the-lost-lands-of-ainalani
Read Shelley's reflection on door-knocking along Hakimo Road
Learn more about Environmental Justice Bus Tours and get on the bus!
Get Involved!
You can support efforts to protect agricultural and preservation lands by signing the community petition and by making a gift in any amount today!
--------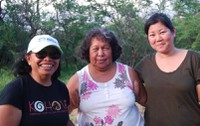 Candace Fujikane is an associate professor in the UHM Department of English. Candance's teaching philosophy centers on her commitment to social justice and place. She works toward enabling students to see themselves as having a role to play in struggles for greater social and political justice, particularly in Hawai'i. Candace encourages students to make connections among the texts they read, the essays they write and the community struggles that take place. She is co-editor the of 2008 book, "Asian Settler Colonialism: From Local Governance to the Habits of Everyday Life in Hawaii."
Candace is pictured here (far right) with Aunty Lucy Gay (left) and Aunty Alice Greenwood (center) of the Concerned Elders of Wai'anae.
Document Actions