Taro On The Defense- Yet Again
Posted by melissakolonie
at Jul 15, 2009 04:01 PM |
Permalink
From Melissa-
Maui taro farmers need your help. Our beloved Haloa is once again under the threat of being generically modified, this time on Maui. The Maui County Council needs to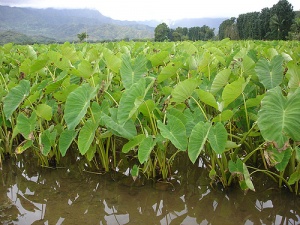 hear from the public on this issue. Please voice your opinion (in Haloa's favor of course) and let it be known to the council that you care about the purity of the kalo within the islands. Take a minute out of your day to contact the council and show your opposition to GM taro. Monsanto, Dow Chemical, and Syngenta have been making their rounds, so pick up your phone and show them that Hawaii doesn't back down on this issue.

Ask them to support Bill 09-100 and help protect taro from genetic modification.
Council members to contact:
Mike Molina (Haiku, Paia, Makawao)  270-5507
Gladys Baisa (Kula, Pukalani, Ulupalakua)  270-7939
Joe Pontanilla (Kahului) 270-5501
Jo Anne Johnson (West Maui) 270-5504
Danny Mateo (Molokai) 270-7678
Sol Kaho'ohalahala (Lanai) 270-7768
Bill Medeiros (East Maui) 270-7246
Wayne Nishiki (South Maui) 270-7108
Michael Victorino (Wailuku, Waihee, Waikapu) 270-7760
Councilmembers are expected to make a key decision in this process by July 16th, so please, please, please call them today.  Your phone call could help to extend the shield of protection for taro to one more county.
Document Actions