Maunakea Teach-in: Kū Kiaʻi Mauna on UH West O'ahu campus
Film viewing and panel discussion, featuring Walter Ritte, Bianca Isaki, Ilima Long and Noelani Goodyear-Kaopua
What
When
Apr 23, 2015
from

02:00 PM

to

04:30 PM

Where

UH West O'ahu Campus

Contact Name
lauren@kahea.org
Add event to calendar

vCal




iCal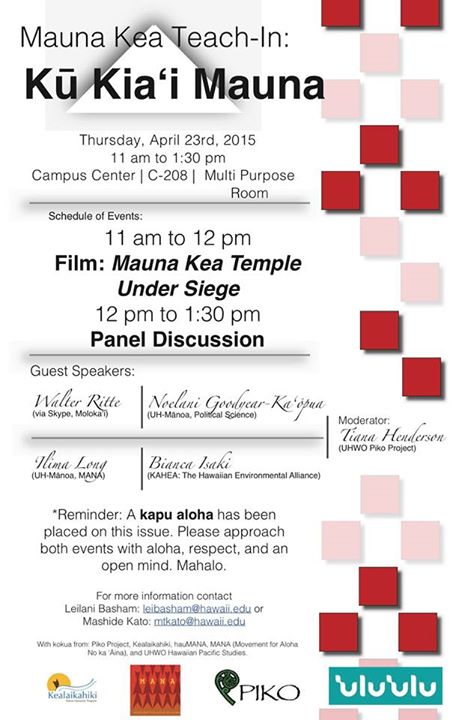 Maunakea Teach-in: Kū Kiaʻi Mauna on April 23rd, Thursday at UH West Oʻahu campus.
The event is from 11am to 1:30. 11 am – 12 will be the film showing of Maunaka: Temple Under Siege. 12 – 1:30 will be the panel discussion, featuring Walter Ritte, Bianca Isaki, Ilima Long and Noelani Goodyear-Kaopua
Here are directions to the UHWO campus: http://www.uhwo.hawaii.edu/default/assets/Image/aerialmap.jpg
Please spread the word, especially to those on the West side. Mahalo!
Document Actions