Mauna Kea Hui statement on the Mauna Kea arrests
31 were arrested on April 2, 2015 after peacefully protesting against the Thirty-Meter Telescope. Kealoha Pisciotta on behalf of the Mauna Kea hui responds to the arrests.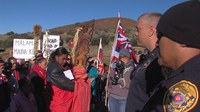 Image from video by David Corrigan.

Video and article about the arrests can be found here
Statement on the Mauna Kea arrests
Kealoha Pisciotta, Mauna Kea Hui
April 2, 2015 (4:00 p.m.)
There are no words...we are deeply deeply saddened by the arrests today of our Hawaiian brothers and sisters and other citizens who were peacefully protecting Mauna Kea from further desecration while we wait for Hawaiʻi's courts to hear our appeal.
In aloha we've directly sought the help of Governor Ige, Hawaiʻi Island Mayor Kenoi, University of Hawaiʻi President Lassner and Hawaiʻi County Prosecutor Roth. But so far none of them have stepped forward to intervene on our behalf.
Last night we were informed by the Governor's Chief of Staff that there was 'too much construction company money at stake" for us to expect Governor Ige to use his executive authority to hold off construction until our appeal can be heard by the State Supreme Court.
Today's arrests are hewa—a grave wrongdoing. At least 30 of our Mauna Kea ohana have been handcuffed and hauled off the mountain by County police and by State DOCARE officers of the Department of Land and Natural Resources—the very state agency that we are challenging in court.
We understand that Governor Ige's office is getting flooded with phone calls today from Hawaiʻi citizens expressing shock at these arrests and disappointment at the Governor's failure to act on behalf of the petitioners, the Hawaiian community and the mountain.
Unfortunately, today's arrests are consistent with the way the State has treated the Hawaiian community during the whole TMT hearing and permitting process—by the Board of Land and Natural Resources (BLNR), the University of Hawaiʻi Board of Regents, and the Office of Mauna Kea Management (OMKM), all of whom have worked diligently to forward the interests of this University of California/Caltech project and Hawaiʻi's local construction companies.
Hawaiians blocked the TMT's construction crews and equipment in order to support two important statutory rights:
The right to appeal to the highest court in Hawaiʻi a flawed conservation district permit and lease that injure the rights of Native Hawaiians and other Hawaiʻi citizens and two deeply flawed lower court decisions.
The right to protect our sacred mountain from desecration, a crime under state law whose maximum penalty is fines or jail time for each offense.
We deeply appreciate the tremendous outpouring of sympathy and support that we've received today from people all over Hawaiʻi nei and from others beyond our shores. Mahalo nui loa.

In Aloha we remain, 
Kealoha Pisciotta
Document Actions