Thirty Meter Telescope on hold while study conducted
December 24, 2013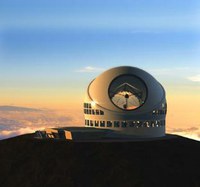 RENDERING COURTESY TMT OBSERVATORY CORP. This rendering shows what the Thirty Meter Telescope proposed for the summit of Mauna Kea will look like.

HILO >> The University of Hawaii is putting a request for new Mauna Kea leases on hold while it conducts an environmental impact study.
The Hawaii Tribune-Herald reports the request before the state Department of Land and Natural Resources would cover the Mauna Kea Science Reserve and Hale Pohaku Mid-Level Facilities through 2078.
University Relations Director Jerry Chang at the University of Hawaii at Hilo says the school hopes the study will prevent legal challenges to a new lease.
"If we don't do it, there will be some appeal," Chang said. "We're just trying to cover all our bases."
The Office of Hawaiian Affairs and other critics of the request say the study is needed to determine how a longer lease and more development could affect the mountain.
Chang says the study will cost about $1 million and take as long as three years to complete.
Chang said the results of the study could help or hinder plans for the mountain, including the $1.3 billion Thirty Meter Telescope. Construction of the telescope is scheduled to begin in April and finish in 2022.
"If the (environmental impact statement) turns out negative, then we probably won't get the extension for the lease," Chang said. "Anybody who invests a billion dollars would like a longer lease than 20 years."
A legal challenge to the construction permit granted by the state is still pending. Several petitioners who filed the lawsuit against the telescope's construction argue it has social and environmental impacts.
Read the original story
Document Actions